townoak.com/si
(an place page of
townoak.com)
(alternative access at
townoak.freeservers.com)
<!sorted by lastname>
<!https://en.wikipedia.org/wiki/NUTS_of_Slovenia>
---
townoak.com/europe
---
Slovenia
---
View Larger Map
<!250px-SLO-Celje20 close up from http://sl.wikipedia.org/wiki/Narodni_dom,_Celje>
Celje Hall 1907(05/15)<!from main celje article built in 1906 and opened on 15 May 1907>
"... the main seat of ethnic German associations in town."
Celje National Hall between 1895 and 1896
"As such, it was intended to contrast with the Slovenian Community Center ..."<!was at such i fixed in wiki>
"Celje is the third-largest town in Slovenia." See si/sa below. My father's maternal grandparents were ethnic Germans born in si/sa and si/ko.
---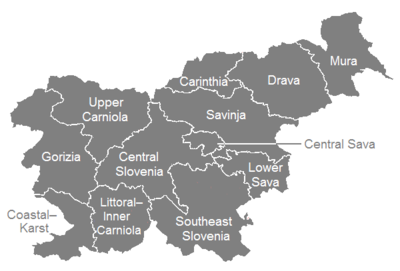 ---
12 Statistical regions
---
<!abbrs are not in wiki got from other site>
Eastern Slovenia
<!The region is difficult to access and is badly connected with the central part of Slovenia. .. In 2013 the registered unemployment rate was higher than the national average. The difference between the registered unemployment rate for men and women was the highest among the statistical regions: for women it was 7 percentage points higher than for men.>
386 ? ? Mura(PM), SI
SI011
386 ? ? Drava(PD), SI
SI012
386 ? ? Carinthia(KO), SI
SI013
386 ? ? Savinja(SA), SI
SI014
<!NOT PICTURED BUT Slovenia's only nuclear power plant, the Krško Nuclear Power Plant, lies southeast of the town.[4]>
386 ? ? Central Sava(ZS), SI
SI015
386 ? ? Lower Sava(PS), SI
SI016
386 ? ? Southeast Slovenia(DO), SI
SI017
386 ? ? Inner Carniola–Karst(NO), SI
SI018
Western Slovenia
<!4th largest city in slovenia><!Kranj is the site of a mass grave from the period immediately after the Second World War. The Planina Mass Grave (Slovene: Grobi-us-uc-e Planina) is located in a small woods in a field near the city cemetery. It contains the remains of an undetermined number of people murdered after the war; the victims may be German prisoners of war, Home Guard soldiers repatriated from Austria, or Slovene civilians from Kranj and the surrounding area.[7][8]>
386 ? ? Central Slovenia(LJ), SI
SI021
386 ? ? Upper Carniola(GO), SI
SI022
386 ? ? Gorizia(SP), SI
SI023
386 ? ? Coastal–Karst(JP), SI
SI024 <!a href=ko KO Carinthia Koro u ska SI013 Slovenj Gradec> <!a href=sa SA Savinja Savinjska SI014 Celje>
---
Capital
---
Ports
---
28
If you have any questions about this web site,
please contact our webmaster: Edward M. Stadick
<!tina maze best female athete in 2005 franz Gostinca listed here is a place in the municipality of Podcetrtek Rann is the German name for the municipality of Brezlice anna Podgorje listed here is a place in the municipality of Slovenj Gradec Celli is the German name for the municipality of Celje Officially, Slovenia is subdivided into 211 municipalities (eleven of which have the status of urban municipalities). NOT SURE WHAT THESE ARE CK http://en.wikipedia.org/wiki/%C4%8Crna_na_Koro%C5%A1kem DR http://en.wikipedia.org/wiki/Dravograd ME http://en.wikipedia.org/wiki/Me%C5%BEica Me__u__zica MI Mislinja MU http://en.wikipedia.org/wiki/Muta,_Muta Muta PO http://en.wikipedia.org/wiki/Podvelka Podvelka PR http://en.wikipedia.org/wiki/Prevalje RD http://en.wikipedia.org/wiki/Radlje_ob_Dravi RK http://en.wikipedia.org/wiki/Ravne_na_Koro%C5%A1kem RP http://en.wikipedia.org/wiki/Ribnica_na_Pohorju SG http://en.wikipedia.org/wiki/Slovenj_Gradec VU http://en.wikipedia.org/wiki/Vuzenica NOPIX Statistical regions: 1. Gorizia, 2. Upper Carniola, 3. Carinthia, 4. Drava, 5. Mura, 6. Central Slovenia, 7. Central Sava, 8. Savinja, 9. Coastal–Karst, 10. Inner Carniola–Karst, 11. Southeast Slovenia, 12. Lower Sava PM Mura Pomurska SI011 Murska Sobota PD Drava Podravska SI012 Maribor KO Carinthia Koroska SI013 Slovenj Gradec SA Savinja Savinjska SI014 Celje ZS Central Sava Zasavska SI015 Trbovlje PS Lower Sava Posavska SI016 Krško DO Southeast Slovenia Jugovzhodna Slovenija SI017 Novo Mesto NO Inner Carniola–Karst Notranjsko-kraška SI018 Postojna LJ Central Slovenia Osrednjeslovenska SI021 Ljubljana GO Upper Carniola Gorenjska SI022 Kranj SP Gorizia Goriska SI023 Nova Gorica JP Coastal–Karst Obalno-kraška SI024 Koper http://www.geopostcodes.com/Slovenia >