townoak.com/northamerica
(an place page of
townoak.com)
(alternative access at
townoak.freeservers.com)
<!sorted by lastname>
---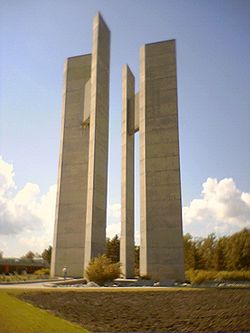 The Peace Towers: two are in the United States and two are in Canada
"Visitors from either country can enter the park via US 281 or MB 10, without passing through customs, and may move throughout the park (crossing the international boundary at will) without restriction. However, customs stations for Canada and the U.S. are located on the roads just north and south (respectively) of the access drives for the garden, requiring all visitors – including those returning to the country from which they arrived – to go through the immigration procedures of their destination country upon leaving the garden."
<!oly gold 2002 2010 2014>
1 201, 202, ... 989 United States(US)
pop. 324,099,593
1C(COMMONWEALTH REALM) 204, 226, ... 905 Canada(CA)
pop. 36,155,487
1D 809, 829, 849 Dominican Republic(DO)
pop. 10,075,045
1(UNITED STATES) 787(PUR), 939 Puerto Rico(PR)
(pop. 3,474,182)
1(COMMONWEALTH REALM) 242(BHA) The Bahamas(BS)
pop. 321,834
<!also has pic of barbados parliment>
<!An aerial view of the western portion of the island of Anguilla. The Blowing Point ferry terminal is visible in the lower right, as are (right to left) Shaddick Point, Rendezvous Bay, Cove Bay and Maundays Bay.>
1(COMMONWEALTH REALM) 246(BIM) Barbados(BB)
pop. 277,821
1(UNITED KINGDOM) 264(ANG) Anguila(AI)
(pop. 13,600)
1(COMMONWEALTH REALM) 268(ANT) Antigua and Barbuda(AG)
pop. 91,295
1(UNITED KINGDOM) 284(BVI) British Virgin Islands(VG)
(pop. 28,054)
1(UNITED STATES) 340 United States Virgin Islands(VI)
(pop. 114,743)
<! other pix The image of the Lord Holy Christ of the Miracles, in Hamilton, devoted by all the Azoreans in Bermuda islands.>
<!A view of half of the coastline of Little Bay, and a glimpse of Carrs Bay, taken from partway up the headland between Little Bay and Rendezvous Bay, 2012>
1(UNITED KINGDOM) 345 Cayman Islands(KY)
(pop. 56,732)
1(UNITED KINGDOM) 441 Bermuda(BM)
(pop. 64,237)
1(COMMONWEALTH REALM) 473(GRE) Grenada(GD)
pop. 109,590
1(UNITED KINGDOM) 649 Turks and Caicos Islands(TC)
(pop. 31,458)
1(UNITED KINGDOM) 664 Montserrat(MS)
(pop. 4,900)
<!good pix of big airplane coming in low also>
<!The island of Mustique in the Grenadines.>
1(NETHERLANDS) 721 Sint Maarten(SX)
(pop. 33,609)<!sx or an>
1(COMMONWEALTH REALM) 758(SLU) Saint Lucia(LC)
pop. 183,600
1<!(COMMONWEALTH)> 767(ROS) Dominica(DM)
pop. 72,324
1(COMMONWEALTH REALM) 784(SVG) Saint Vincent and the Grenadines(VC)
pop. 109,991
<!Pigeon Point in Tobago, one of the top tourist destinations in the country.>
<!Doctor's Cave Beach Club is a popular destination in Montego Bay.>
1<!former (COMMONWEALTH)> 868(TNT) Trinidad and Tobago(TT)
pop. 1,349,667
1(COMMONWEALTH REALM) 869 Saint Kitts and Nevis(KN)
pop. 54,961
1(COMMONWEALTH REALM) 658, 876 Jamaica(JM)
pop. 2,950,210
The places above are all part of the North American Numbering Plan. "The North American Numbering Plan (NANP) is a telephone numbering plan that encompasses 25 distinct regions in twenty countries primarily in North America, including the Caribbean and the U.S. territories. Not all North American countries participate in the NANP." Mexico and Central America, although part continent of North America are not part of the North American Numbering Plan. Those countries will be included in townoak.com/southamerica.

"Many Caribbean codes were assigned based on alphabetic abbreviations of the territory name ... This follows the traditional letter assignments on telephone dials." Those alphabetic abbreviations are listed in parentheses next to the area codes. ROS for Dominica is for the capital Roseau. BIM for Barbados is based on the following. "Other names or nicknames associated with Barbados include 'Bim' and 'Bimshire'. The origin is uncertain but several theories exist. The National Cultural Foundation of Barbados says that 'Bim' was a word commonly used by slaves and that it derives from the Igbo term bém from bé m<!.'>u meaning 'my home, kindred, kind'"

Bermuda isn't in the Caribbean it is "roughly 578 nautical miles (1,070 km (665 mi)) east-southeast of Cape Hatteras on the Outer Banks of North Carolina and about 594 nautical miles (1,100 km (684 mi)) southeast of Martha's Vineyard of Massachusetts. It is 898 nautical miles (1,664 km (1,034 mi)) northeast of Miami, Florida, and 667 nautical miles (1,236 km (768 mi)) from Cape Sable Island, in Nova Scotia, Canada." The distance is further to any islands in the Caribbean.

The remaining area codes in the North American Numbering Plan are United States places in the Pacific: Commonwealth of the Northern Mariana Islands(670), Guam(671), and American Samoa(684). Those will be included in townoak.com/oceania. <!FRENCH WORD ** Caraïbes or more commonly Antilles The Caribbean islands, consisting of the Greater Antilles on the north and the Lesser Antilles on the south and east (including the Leeward Antilles), are part of the somewhat larger West Indies grouping, which also includes the Lucayan Archipelago (comprising The Bahamas and Turks and Caicos Islands) north of the Greater Antilles and Caribbean Sea. In a wider sense, the mainland countries of Belize, Colombia, Venezuela, Guyana, Suriname, and French Guiana are also included. ... The West Indies cricket team continues to represent many of those nations. >
<!Natural bridge in Aruba (collapsed 2 September 2005)>
<!Port of Saint-Pierre during the winter>
<!Citadelle Laferrière, is the largest fortress in the Americas, and one of the eighth wonders of the world.>
<!Cigar production in Santiago de Cuba><!Santiago de Cuba is the second largest city of Cuba >
297(NETHERLANDS) Aruba(AW)
(pop. 103,400)
508(FRANCE) Saint Pierre and Miquelon(PM)
(pop. 6,080)
509 Haiti(HT)
pop. 10,604,000
53 Cuba(CU)
pop. 11,239,004
<!Saint-Pierre. Before the total destruction of Saint-Pierre in 1902 by a volcanic eruption, it was the most important city of Martinique culturally and economically, being known as "the Paris of the Caribbean".>
590(FRANCE) Collectivity of Saint Martin(MF)
(pop. 36,286)
590(FRANCE) Guadeloupe(GP)
(pop. 403,750)
590(FRANCE) Saint Barthélemy(BL)
(pop. 9,035)
596(FRANCE) Martinique(MQ)
(pop. 385,551)
<!Dutch architecture along Willemstad's harbour>
599-9(NETHERLANDS) 599 9 Curaçao(CW)
(pop. 154,843)
599(NETHERLANDS)
599-7(bonaire) 599-4(saba) 599-3(sint eustatius)
Caribbean Netherlands(BQ)
(pop. 21,133)
The places above are not part of the North American Numbering Plan. With the exception of Saint Pierre and Miguelon, they are all islands in the Caribbean(or portions of islands). They are included here since they fit better at townoak.com/northamerica than anywhere else.

Saint Pierre and Miguelon is "25 kilometres (16 mi) from the Burin Peninsula of Newfoundland, Canada." <!Saint-Pierre is French for Saint Peter, the patron saint of fishermen. The present name of Miquelon was first noted in the form of "Micquelle" in the Basque sailor Martin de Hoyarçabal's navigational pilot for Newfoundland.[>

The islands that are divided into two places are Hispaniola(divided between Haiti and Dominican Republic) and Saint Martin(divided between Sint Maarten and Collectivity of Saint Martin)

"Saint Barthélemy .. was a Swedish colony for any significant length of time .. Symbolism from the Swedish national arms, the Three Crowns, still appears in the island's coat of arms." "Both the airport and the island's main town of Gustavia are named for King Gustav III of Sweden, under whom Sweden obtained the island from France in 1784 (it was sold back to France in 1878). In 1984, Swedish Minister of Communications, Hans Gustafsson, inaugurated the terminal building of the Gustaf III Airport." Caribbean paradise holds on to its Swedish past

"Caribbean Netherlands .. islands of Bonaire, Sint Eustatius, and Saba .. Bonaire (including the islet of Klein Bonaire) is one of the Leeward Antilles and is located close to the coast of Venezuela. Sint Eustatius and Saba are in the main Lesser Antilles group and are located south of Sint Maarten and northwest of Saint Kitts and Nevis."

Sint Maarten was the last place to become part of the North American Numbering Plan in September 30, 2011. It is possible others could follow. Aruba is one possibility. "Telephone numbers in Aruba have country code 297. It is one of the few countries outside Africa with a country code starting with 2. Before Aruba seceded from the Netherlands Antilles in 1986, it was part of the Netherlands Antilles numbering plan (+599)[1] with phone numbers starting with +599 8"<!Aruba The phone numbers of private persons and businesses can be looked up at www.arubayp.com. Landline numbers begin 52 or 58.> <! https://en.wikipedia.org/wiki/Commonwealth_realm **** ADD COMMONWEALTH 2 split islands also us and canada same land mass check townoak.com/kn if has link to wiki page for country Sint Maarten used to be 590(france part of island) or 599(other dutch) now nanp wiki says both formerly 590 and 599? 500 falklands 592 guyana on continent independant county 594 French Guiana on south america continent part of france 597 suriname on continent independent in 1975 https://en.wikipedia.org/wiki/North_American_Numbering_Plan Bermuda before 1995: +1 809 29x xxxx since 1995: +1 441 xxx xxxx Puerto Rico before 1996: +1 809 xxx xxxx, 1996-2001: +1 787 xxx xxxx since 2001: +1 787 xxx xxxx or +1 939 xxx xxxx (overlay for entire island) U.S. Virgin Islands before 1997: +1 809 xxx xxxx since 1997: +1 340 xxx xxxx Northern Marianas before 1997: +670 xxx xxxx since 1997: +1 670 xxx xxxx Guam before 1997: +671 xxx xxxx since 1997: +1 671 xxx xxxx American Samoa before October 1, 2004: +684 xxx xxxx since 2004: +1 684 xxx xxxx Sint Maarten before September 30, 2011: +599 5xx xxxx since 2011: +1 721 xxx xxxx >
---
Info on North American Dialing Plan.
---
For additional info see townoak.com/things/centraloffices
Number of Rate centres for each of the North American Dialing Plan Regions(currently excludes Canada and Non-Territorial-US)
<!townoak>
Region
rax start
rax end
# of rax's <!townoak.com/ca/ab AB 000010 003370 ? Alberta>
"townoak.com/gb/Anguilla"
AI<!ac284>
003380
003380
1
"townoak.com/ag"
AN
009360
009360
1
Antigua and Barbuda<!nothing2pageyet>
townoak.com/bs
BA<!ac242>
014670
014900
LU
The Bahamas<!landlineonly2page> <!checked nothing 014910 or 014970> <!townoak.com/ca/bc BC 014980 018090 ? British Columbia>
townoak.com/bb
BD<!ac246>
018100
018170
LU8
Barbados<!landlineonly2page>
"townoak.com/gb/Bermuda"
BM<!ac284>
018180
018190
2
"townoak.com/gb/British Virgin Islands"
BV<!ac284>
018200
018200
1
"townoak.com/gb/Cayman Islands"
CQ<!ac345>
027760
027760
1
townoak.com/dm
DM<!ac767>
029020
029020
1
Dominica<!landlineonly2page>
townoak.com/do
DR<!ac809, 829, 849>
029030
029410
LU
Dominican Republic<!all2page>
townoak.com/gr
GN<!ac473>
036090
036090
1
Grenada<!nothing2pageyet>
townoak.com/us/gu???
GU<!ac671>
036100
036100
1
<!landlineswitches2page> <!townoak.com/us/il IL 046140 055940 ? Illinois>
townoak.com/jm
JM<!ac876>
061210
061570
LU
Jamaica<!landlineonly2page>
townoak.com/kn
KA<!ac869>
061620
061630
2
Saint Kitts and Nevis<!nothing2pageyet> <!townoak.com/ca/mb MB 076760 079180 ? Manitoba> <!townoak.com/ca/nb NB 108380 109250 ? New Brunswick> <!Newfoundland and Labrador next********>
townoak.com/us/mh???
MP<!ac671>
128570
128590
3
<!landlineswitches2page> <!townoak.com/us/ny NY 131650 138960 ? New York>
townoak.com/us/pr
PR<!ac787,939>
175010
175860
?
"townoak.com/gb/Montserrat"
RT<!ac441>
176120
176120
1
townoak.com/lc
SA<!ac758>
176150
176150
1
Saint Lucia<!all2page>
"townoak.com/gb/Turks and Caicos Islands"
TC<!ac649>
183650
183650
1
townoak.com/tt
TR<!ac868>
187070
187312
LU
Trinidad and Tobago<!landlineonly2page>
townoak.com/us/vi
VI<!ac340>
205220
205250
4
townoak.com/vc
ZF<!ac784>
218740
218740
1
Saint Vincent and the Grenadines<!all2page>
townoak.com/us/as???
AS<!ac684>
219410
219410
1
<!landlineswitches2page>
"townoak.com/nl/Sint Maarten"
SM<!ac721>
219480
219480
1
10

If you have any questions about this web site,
please contact our webmaster: Edward M. Stadick